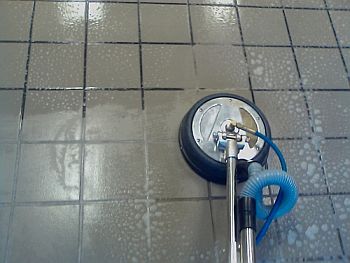 Tile and grout cleaning is not an easy job and best left for professionals, professionals like those at Mighty Mop Cleaning Services.
To keep your business's tile and grout sanitary and looking its best, it should be professionally cleaned a minimum of once per year, high traffic areas more so. If neglected too long grout can become permanently discolored and you certaily don't want that happening.
Our Process:
Apply commercial grade cleanser.Our commercial grade cleanser is acid free.
Work cleanser into grout lines with brushes.
Steam the tile and grout clean with concentrated steam and suction.
Dry the floor well.
Seal the clean grout with commercial grade, penetrating sealer that offers strength and durability.
Our Professionally Trained Staff here at Mighty Mop Cleaning Service are trained to use the latest equipment, products and procedures to ensure your floors are at their most presentable.