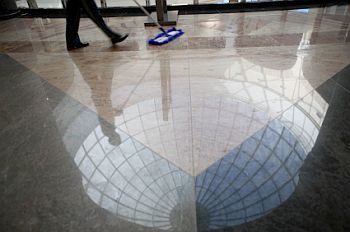 Most flooring that needs to be stripped will be quite obvious.  They'll either yellowing, dull, unclean able  and just plain unsightly. Mighty Mop's Professional floor stripping and waxing is done in a series of tried and truesteps. The products we use are very powerful and if when used by our professional floor specialists, whill certainly get the job done.
Why hire Mighty Mop to strip your floors:
SAFETY- QUALITY ARE ASSURED
Hard floor servicing technicians are constantly confronted with dangerous situations, in other words when you are consistently walking on a wet surface, you put yourself in harms way. To go 1 step further, the the majority of dangerous circumstance a floor maintenance specialist will come across is the stripping procedure—re-emulsified floor finish and extremely slippery surface area. The specialist in charge carries the responsibility of safety for the team, as well as everyone else in the building. And also slip-and-fall safety, there are other safety measures technicians must be take.
When you hire Mighty Mop, we step in the place of risk and give you peace of mind. We take safety seriously and deliver a clean result.