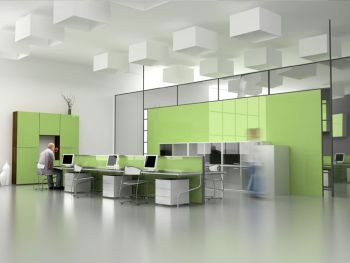 Too many cleaning services and janitorial services get sloppy after winning your business. Mighty Mop Cleaning Service knows we have to win your business every night, every week, and every month. Does your current janitorial service leave smudges on the entry glass or miss that dust bunny that has been growing behind your monitor? Unlike other office cleaning services, Mighty Mop Cleaning Service knows that the cleanliness of your business is a reflection on our business. When someone asks if you can recommend a cleaning service, we want you to recommend us!
As a family owned and operated commercial cleaning service, our name and reputation are our most important advertising tools. We are not looking for a fly by night sale; we seek strong, long-term relationships built on personal service. We rely on a no-strings attached, no contract philosophy to guarantee our first-rate cleaning services. We know that to keep your business, we have to do a first-rate job every time. In the cleaning service business, contracts are for those who underperform and over promise.
Unlike other office cleaning services, you will not have to worry about our staff. Mighty Mop Cleaning Service rigorously interviews, screens, and checks the backgrounds of all our potential employees to make sure they meet our company's standards, ethics and morals. Then, we train them to make sure they will do a perfect and thorough job, every time.
Mighty Mop Cleaning Service provides consistent, quality commercial cleaning services, allowing you to focus on your business. Call us at 732-742-7511 or email info@mightymopcleaningservices.com to see how we can be of service to you.